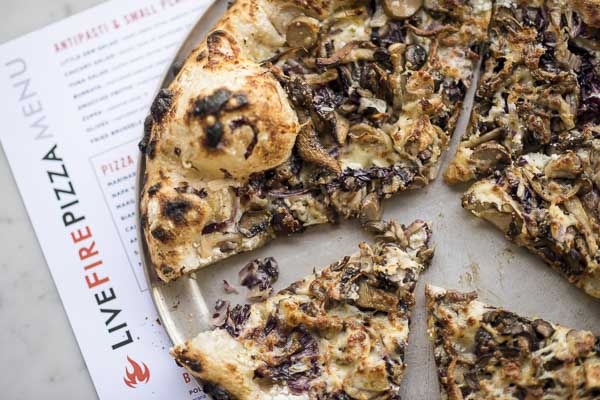 Janet Fletcher's Planet Cheese | My Kind of Cheese Pie
by Janet Fletcher
I enjoy a good pizza Margherita, but typically my favorite pies don't have tomato sauce. Pizza bianca—a "white" pizza—is always my preference, and Liza Shaw shares that taste. The consulting chef at the new Live Fire Pizza in Napa, Shaw is turning out crusty, balanced, wood-oven-seared pies—like this mushroom and radicchio combo—that really flip my switch. I've tried four in two days. Of course, what makes white pizza white is the cheese, and Shaw makes some delicious choices on that front.
"I love the idea of white pizza, but people were doing them with béchamel and mascarpone, which don't do well in a high-temperature wood-fired oven," says Shaw, who maintains her forno at 750°F. Clumps of ricotta are also problematic at that temperature. Some chefs use a pastry bag to pipe on ricotta at the end. Shaw solved the dilemma by thinning the ricotta with just enough milk and olive oil to make it spreadable with the back of a spoon. She seasons that mixture with salt and uses it as her base, in place of tomato sauce.
Here's the order with rough proportions:
Dough (250 grams) stretched to 13 inches
½ cup ricotta base
1 garlic clove, thinly shaved
1 teaspoon dried oregano
1 tablespoon finely grated pecorino or grana padano
Radicchio (*), thinly sliced, salted and tossed with olive oil 30 minutes ahead
Sliced and seared mushrooms (**)
1-1/2 to 2 ounces grated Di Stefano smoked scamorza (***)
(*) Shaw uses the elongated Treviso radicchio but you can substitute the round type. Half of a medium head is probably enough for one pizza.
(**) Shaw uses a mix of king trumpet, crimini and brown beech mushrooms—sliced, tossed with olive oil and salt and pre-roasted in the pizza oven. You can use any type and sauté them instead.
(***) Smoked scamorza! Great idea. Di Stefano, makes smoked scamorza by air-drying its mozzarella for about a week, then smoking the balls with wood chips. It's not stringy like mozzarella, and it doesn't make the pizza soggy, as high-moisture mozzarella can.
Di Stefano smoked scamorza is primarily sold to restaurants, but FOR A LIMITED TIME, the company will ship it to Planet Cheese readers. Call 909-865-8301 or e-mail info@distefanocheese.com to inquire about ordering it. A single cheese weighs just under 7 ounces. Alternatively, substitute smoked mozzarella.
Say Yes to No-Red-Sauce Pizza
One of my favorite vacation memories is of the boisterous Alsatian pizzeria where my husband and I first encountered tarte flambée ("flaming tart"). We sat at long communal tables and had what everyone else was having: vinaigrette-dressed salads of grated carrots and celery root followed by slabs of sizzling Alsatian pizza from a wood-fired oven. Traditional tarte flambée has a base of crème fraiche or fresh pot cheese, then a topping of onions and bacon. I have substituted Greek yogurt and like the contrast of its tang against the sweet onions.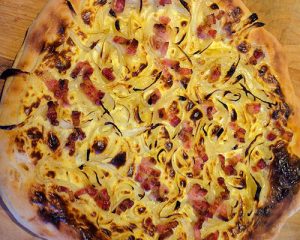 The unusual pizza-cooking technique that I suggest below—preheating the pizza stone under the broiler and then broiling the pizza for the first few minutes—is a procedure I developed to compensate for my home oven, which can't be coaxed any hotter than 475°F. Preheating the stone under the broiler insures that the bottom of the pizza will get crisp, and the initial broiling of the pizza browns the top. I turn off the broiler element as soon as the exposed dough is nicely colored and just starting to blister and then complete the cooking at the hottest possible baking temperature. This method works like a dream for me, but every home oven is a little universe of its own. You may need to deviate from my suggested timings. Note that you need a pizza stone or pizza tiles large enough to accommodate a 14-inch pizza. From Yogurt: Sweet and Savory Recipes for Breakfast, Lunch, and Dinner.
1 pound pizza dough (your favorite homemade or store-bought), at room temperature
Unbleached all-purpose flour, for dusting
1 tablespoon extra-virgin olive oil
1/2 large yellow onion, thinly sliced
Kosher or sea salt and freshly ground black pepper
3/4 cup Greek yogurt (not nonfat)
1 large egg yolk
1 tablespoon all-purpose flour
A few scrapings of whole nutmeg or pinch of ground nutmeg
Fine semolina, for the pizza peel
3 to 4 ounces pancetta, in 1/4-inch dice
1 tablespoon chopped Italian parsley
Position a rack in the upper third of the oven. Set a pizza stone on the rack and preheat the oven to its highest setting for at least 45 minutes to thoroughly heat the stone.
About 20 minutes before baking, turn on the broiler to heat the top surface of the baking stone.
Warm the olive oil in a skillet over medium heat. Add the onion, season with salt and pepper, and sauté until softened but not colored, about 5 minutes. Transfer to a plate.
In a bowl, whisk together the yogurt, egg yolk, flour, nutmeg, ½ teaspoon salt and several grinds of black pepper.
Generously dust a pizza peel or rimless baking sheet with semolina.
With floured fingertips, flatten the pizza dough into a round about 10 inches in diameter. Now you need to stretch it further by hand, until it is about 14 inches in diameter. (A rolling pin forces too much air out, and the dough wants to stick to it.) For me, the easiest stretching method is to drape the flattened dough across the back of my floured knuckles, then rotate the dough, gradually moving my hands farther apart as the dough stretches. Don't be concerned if the dough isn't perfectly round—a misshapen pizza has handmade charm.
Transfer the stretched dough to the prepared peel. Working quickly, top the dough with the yogurt mixture, spreading it almost to the rim with a rubber spatula, then scatter the onion on top. Dot the surface with pancetta.
Slide the pizza onto the preheated stone. Broil until the rim is puffed and golden brown, 3 to 4 minutes. (Every broiler is different so monitor carefully to prevent scorching.) Turn off the broiler and return the oven thermostat to the highest setting. Continue baking until the pizza bottom is fully cooked and lightly browned, about 5 minutes longer. Transfer the pizza to a cutting board, sprinkle with parsley, and cut into wedges to serve.
Serves 2 to 4